How can I return an item if my country is on the easy returns list?
Updated a month ago
We want you to love your ALOHAS as much as we do! If you are not entirely happy with your order, it does not fit you or you need a different size, go ahead and request a return through our return platform.
Before moving on with your request, please check our return policy and our article How do I make a return? to confirm whether you are eligible for easy returns or not 
1. Access with your email address or ZIP code (the one used for the purchase) and your order number (starts with INT)
2. Click on Start a return.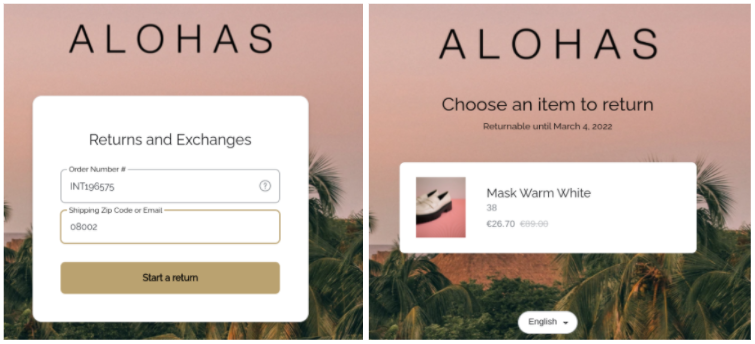 3. If you received an incorrect/defective item and you want to return it, we need to manually review your request. In this case, select  ''Yes''. If this is not the case, select ''No'' to continue.
5. Select the return reason and click on Continue with the return.
4. Choose your return option: Exchange this item or Return the item.


6. You can either decide to get the amount you paid or shop now with the amount you paid + €20  we give you as a gift.
a) In case you select the money-back option, you will be asked to choose between Store Credit or Refund.
b) In case you decide to shop now you will be redirected to our website and the amount will be already discounted at checkout.


7. Review your return and click on Submit Return.
8. Your return has been submitted! Now click on PRINT RETURN LABEL for your (free) prepaid return shipping. 


9. Download the return form and put it inside the package form.
11. Drop off the package within 10 days from the return request to your nearest carrier facility and keep the tracking number for future reference.
IMPORTANT: In case you are returning from a free-return country, please make sure you exclusively use the pre-paid label generated using our return process. In case the return is not free for you, please make sure all taxes and duties are covered when you pay for your return. We only process those returns that arrive at our warehouse directly, without any customs paperwork or payment from our side.
In any case, we highly recommend always keeping the tracking information, as we may request them as proof of return. Once we receive the item(s) back, and after the proper inspection, you'll receive a confirmation email of either your refund, your Store Credit code, or your new purchase order for the exchange.
Was this article helpful?